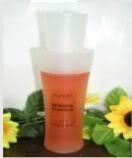 (MAL 07122178 K) RM69.90

Bahan pembersih yang menagndungi AHA untuk menjadikan kulit lebih cerah dan warna kulit yang rata setiap kali anda membersihkannya. Ianya juga menanggalkan mekap dan sel mati, mencerahkan, menyegarkan dan melembutkan kulit.



Picit pembersih ke tapak tangan, tambah air untuk menghasilkan buih.

Biarkan 15 saat sebelum membersihkannya dengan air



This premium facial cleanser contains advanced 'AHA' to give skin whitening a visibly fairer and even skin tone every time you cleanse. It foams to remove impuities make-up and dead skin cells, leaving skin fair, fresh and soft.
Squeeze cleanser on clean palm, add water and into a foam. Leave on for 15 seconds before rinsing off with water